Grant Jones was born in Pembroke, Ontario and is a citizen of the Bonnechere Algonquin First Nation. He now resides with his family in Bowmanville, Ontario, but regularly returns to his roots along the Ottawa River where he gathers material for his carving
Grant is a self taught artist whose love of fishing and nature as a young boy developed into an appreciation of his Native culture and its art. Inspired by his Native surroundings and influenced by his parents' interests in leather crafts, wood carvings, and painting, Grant creates stunning masks, totem poles, antler carvings, and driftwood carvings using traditional woods indigenous to the shores of the Ottawa River.
For Grant, woodcarving is more than a pastime; it is a passion and expression of his Native heritage.
---
| | |
| --- | --- |
| Custom Made Ribbon Shirts | |
| | |
---
For Professional Foot Care And Confidential Service From A Registered Practical Nurse Contact Audrey Waito
---
( Click on the business card to go to his website )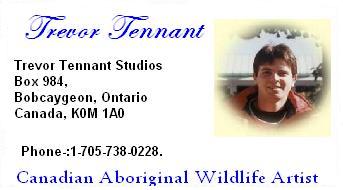 Trevor Tennant is the son of one of our members Wayne Tennant. Some career accomplishments to date:
2006 -2nd place winner in the Colorado Duck Stamp Competition.-2006- 4th place finish in the Nevada Duck Stamp Contest
2006- Top 100 Arts for the Parks Mini, judging for awards still pending-2005- 2nd place winner in the 2005/2006 Salmon Conservation Stamp Art Competition in Canada.
2005- 3rd place in the 2006 Canadian Wildlife Habitat Conservation Stamp Competition.-2005- 3rd place prize in the Bird 2005 International Art Award - Beijing, China.
2005- Placed in the top 200 of the Prestigous Arts for the Parks Competition - USA-2005- Finalist winner in the Animal Art Category for The Artist's Magazine annual art contest - USA
2004- Winner of the Ministry of Natural Resources Ontario Outdoors Card art Competition. The card will be used for the 2005- 2007 hunting season.
2004- Placed top five in the Colorado Duck Stamp competition.-2003- Winner of the Ducks Unlimited Canada "Sponsor Print 2003" competition.
2001- Winner of the Ducks Unlimited Canada "Sponsor Print 2001" competition.-2001- Winner of the 2001 Trout Unlimited Canada Artist of the Year competition.
Click on his card to go to his website and see all his art work.
---
( Click on ad below to go to her website )
Sherry Wesson is one of our members and she operates Lost Guide Adventure Tours.
Contact Information:
Lost Guide Adventure Tours
8715 68A Street.
Edmonton, AB
Canada T6B 1T6
Phone: 780-469-9602
mobile: 780-278-9602
fax: 780-490-7803
http://www.lostguidetours.com
---
M.P. Enterprises
(Div.of 927630 Ontario Inc.)
Michel Paquette
196 St Louis St
– La Peche QC J0X 2W0
Telephone 819-456-3062
Services offered:

General Contractor, Complete interior Renovations and Fit-ups. Drywall including Plaster work, Painting, Carpentry, Windows, Doors and Specialty Doors, Security Doors,Marble Work, Flooring , Electrical, Plumbing, Disaster Restoration and Emergency Clean Up,Water Restoration, Mold Remediation,Asbestos Removal, Custom Manufacturing – Stainless Steel, Aluminum, Iron.


Mike Paquette BAFN Member is the owner.
---
Any member who would like to advertise here free of charge Please contact Chief Zohr with the particulars and he can authorize me to include your product and or service to this section. You must be a BAFN member to be eligible to advertise free of charge here..